Testimonials      
we
Rock

you

Roll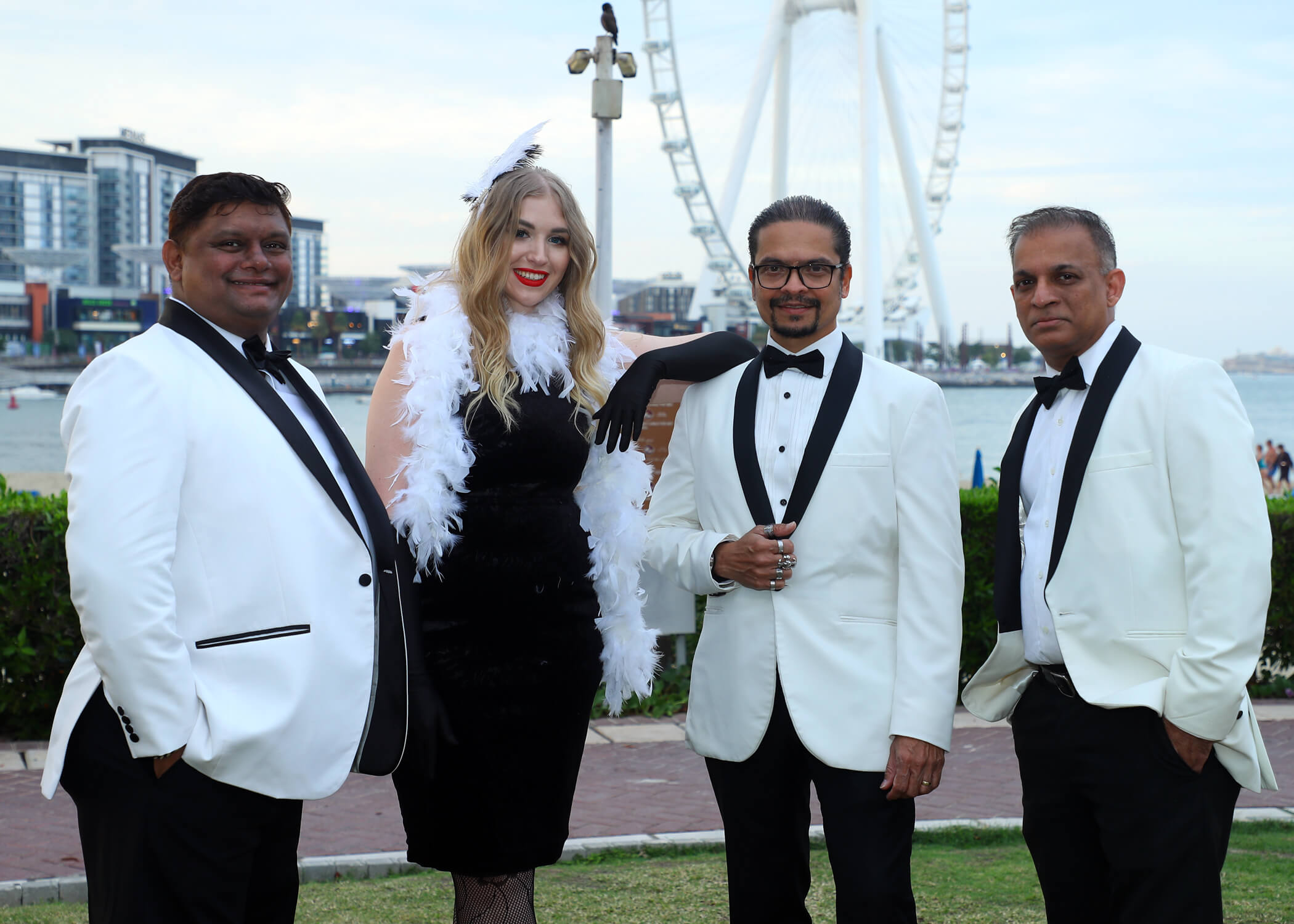 Testimonials
Take a look at what clients are say about Voices 3 Band
V3 dxb is one of the top brands in Dubai that cover various different songs and tracks. We play for almost every occasion, parties, galas, corporate events and so much more! We are equipped with musicians with several years of training and experience. V3 dxb is a fusion event band that is able to play multilingual songs and the top 10 hot tracks of the month! We are able to entertain and ensure that the audience has a good time with us as one of the top bands in Dubai.
Rajesh and V3 were called in for an event approximately 16 years back when I started my career and they were recommended to us by someone. When we first heard the name - we were unsure whether to use them as the client was very important and brought in some good business to us. When we called Rajesh for a meeting, he reassured us that he will take care of everything for us and he did. The band managed to control the pace of the crowd with their performance. Our client was so impressed that she made sure that they were the performers for every group that was brought in to Dubai. I will always recommend V3 to anyone that is looking for a band and I know that person will be as mesmerized by them as I was when I started my career.

Joshua Edwards
Project Manager – MICE & Cruises at Travco Events

January 26, 2021, Joshua was a client of V3's
The first time I used V3, they were recommended by a colleague for an incentive group from the UK. I was a bit nervous about their performance and didn't know much about AV. Rajesh kept trying to reassure me that it would be a good gig. The night of the event, they came in, set up and rocked the crowd. People took breaks from the dance floor during the DJ sessions. That was 18 years ago and since then I have never hesitated to use V3 or recommend them for any corporate event. Their repertoire is great and they really can pull a crowd to their feet. They are a professional band and flexible with any requests. I would definitely recommend them to for corporate or social events.

Candida Lobo DMCP
Event and Destination Management at Ca Lo Events

January 24, 2021, Candida was a client of V3's
If you're looking for an exceptional band in Dubai, then look no further. V3 is brilliant and highly entertaining! They performed at our Bitcoin event for over 800 guests at the JW Marriot Marquis. They belted out famous songs and guests were dancing on the stage! I would highly recommend V3, and I look forward to hiring them again in the future.

Chi Lee
Building Collaboration And Partnership / UK Sales @HADO-event.com / AR Sports UK Champion Team Manager/HADO Coach

January 20, 2021, Chi was a client of V3's
If you need a band that can play a variety of music genres, are upbeat and flexible to work with and offer their services at affordable rates then V3 is an ideal solution. I have worked with V3 for numerous years and I have yet to have one bad report. Only positive feedback and dancing crowds have been reported. Definitely do check them out as they are highly recommend

Syed Awais Ahmed
Head Of Business Development at Pure Arabia Incentives, Conferences & Events LLC

January 20, 2021, V3 was a client of Syed Awais'
We have used V3 Band many times and they are always a huge hit with our clients. They are professional, arrive as scheduled, and always put on a fantastic show... Very professional band with a large varied song list. The dance floor will never be empty and they are wonderful in helping to time the events. They are very accommodating in the planning of any events organised in the region.

Jay Arora
Director at Touch +971

January 20, 2021, V3 was a client of Jay's
V-3 is one of the best bands you can engage with for your events in this region. They are a professional outfit in all senses and dealing with them is a real pleasure. Their repertoire is wide and all the band members have a keen sense as to what the crowd is looking for which makes it a fun-filled evening Rajesh is a good organiser and has his finger to the pulse when it comes to the details of the event which is a big plus for all organisers Well done Rajesh and the V3 Team ! Good luck with all your upcoming gigs- Regards, Bosco

Bosco Daniel
Chief Operating Officer: Co-Founder

January 19, 2021, Bosco was a client of V3's
Fun to Work with. Potrays a very professional personality in the field of Entertainment and audio/visual dynamics for any occasion.

Ryan Fernandes
Container Leasing & Operations Analyst / Graphic Design / Document Control / MS Office & Customer Service

August 25, 2013, V3 worked with Ryan in the same group